I'm on The G&T Show Supplemental Log talkin' Klingon Art of War
Current Mood:

pleased

Current Music:

the Yankees-Red Sox game on YES


H, who has been doing my hair for six years now, took one look at me and said "no, you look fabulous, I am not cutting all that off."

We compromised, which is to say I lost.

But it is shorter, and much less shaggy now, and if I still want to go short for winter, she will graciously allow me to do so. :-)

Hey, in all those six years, she's given me exactly ONE haircut I wasn't a hundred percent thrilled with. She's probably earned the right to boss me around a little.
So - after dithering and putting it off until my hair was several (4) inches below my shoulders an more than a little, um, shaggy - I finally walked into the salon this afternoon, fully intending to go drastic and have it all chopped off to above my chin, just for the change.


This is the shape of my 2014, with travel dates and everything. Beautiful travel dates. Hope to see you sometime in the months to come. I know I just did one of these posts, but there's been some updates, and I want to make sure I don't lose track of anything (remember, these are as much for me as they are for you).

Publications

Sparrow Hill Road, May 6.
"Knit a Sweater Out of Sky," May 13 (Dead But Not Forgotten, audio).
"Stingers and Strangers," May 13 (Dead Man's Hand).
"IM," June 1 (website).
"Lady Antheia's Guide to Horticultural Warfare," July 1 (Clockwork Universe).
"Oh Pretty Bird," July 1 (website).
"Bury Me In Satin," August 5 (website).
The Winter Long, September 2.
"Snakes and Ladders," October 14.
Symbiont, November.
"The Fixed Stars," November 4 (Shattered Shields).
"Each to Each," 2014 (Women Destroy Science Fiction).

"The Happiest Place...," February 2015 (Wastelands 2).
Pocket Apocalypse, March 3, 2015.

"No Sooner Met," unknown.
"Driving Jenny Home," unknown.
"Rolling in the Deep," unknown.
"In Skeleton Leaves," unknown.
"Opening Band," unknown.
"There is No Room For Sorrow in the Kingdom of the Cold," unknown.

Conventions/Appearances/Travel

Sparrow Hill Road release party, May 10, Borderlands Books, San Francisco CA.
Phoenix Comic-Con, June 5-8, Phoenix AZ.
San Diego International Comic-Con, July 23-27, San Diego CA.
Loncon 3 (Worldcon 2014), August 14-17, London England.
Disneyland Paris, August 18-21, Paris France.
Shamrokon (Eurocon 2014), August 22-24, Dublin Ireland.
Filk Continental, October 3-5, Hamburg Germany.
Windycon, November 14-16, Chicago IL.

Eastercon: Dysprosium, April 3-5 2015, London England.
Westercon 68, July 2-5 2015, San Diego CA.

No fixed deadline/being written/unsold:

The Best Thing
"The Star of New Mexico"
"White as a Raven's Wing"
"Last Call at the Last Chance"
"Long Way Down"
"Decay"
"Fiber"
"Carry Me Home"
"Pixie Season"
"These Antique Fables"
"All the Pretty Little Horses"
Echo
Chaos Choreography
Chimera

Again, to clarify some recent confusion: some things, especially novel-length things, may appear more than once, on both the "publication date" and "being written" lists. This is because the "being written" list is an aggregate, which also includes "no fixed deadline" (IE, being written on spec or for the website) and "unsold" (IE, being written because I can). So new books will appear there for a long time before they vanish, since books take a long time to write, but may also have pub dates listed higher up.

Look at that list. It's so shiny!
...when you're not with me I lose my mind. Give me a sign: hit me baby, one more time.
Current Mood:

busy

Current Music:

The Zappas, "Hit Me Baby One More Time."
"I was nice to girls. They all used and ignored me. Then I became a bad boy, insulting and abusing them, and oh how the poon did flow."
That's one of a thousand generic, whiny essays decrying "The Friend Zone," where a man who is Too Nice For His Own Good finally learns to Be Mean and tells you all the lesson that Stupid Women Don't Like Nice Guys Be A Dick Hurr Hurr Hurr.
Except you were never a nice guy.
Because hey, did you tell her when you met her, "Hey, I'd like to date you?", even though you secretly went back home and masturbated so furiously you could have used your smoking dick to start a fire? No. You instead hung around her, pretending to be her friend when friendship was actually the last thing you wanted.
Hey, if you really wanted to be her friend, you wouldn't be sitting here decades later, spilling tawdry confessions of how awful it was not to fuck her, right? I mean, I've had friends who were just friends, and I don't weep bitter tears about how "Oh, what I wanted was friendship, and that's all I got?"
No. You started right off by lying. You figured hey, I'll sneak in the friendship door, and then once I've fluffed the cushions in the friendship lobby I'll mash that glowing button to Love Tower!
And it didn't work out for you, did it?
Well, that's because you were a crappy friend. And not just because you lied.
Because you sucked at being a person.
See, "friends" bring interesting shit to the table. When I get together with my friends, male or female or somewhere in-between, they tell me about the interesting things that happened to them. They recommend television shows I haven't seen, talk about restaurants, have great stories that make me laugh. They go, "Ugh, that's not for me" and they contradict me and we tussle and it's fucking awesome.
What you did was to sit there, rabbitlike, and nod your head to everything she said.
I know you think you were a friend, but probably you were more like an unpaid valet; agreeing to everything she said no matter how stupid it seemed, doing all of her chores because that's what friends do, contributing precisely nothing to her life except as a rug to walk on.
I mean, you couldn't have offered any real useful advice, because your hidden agenda was "Sleep with me, sleep with me, sleep with me" and everything got filtered through that straining urge. And you probably didn't bring up your interests, going, "Hey, let's watch The Avengers," because introducing your tastes might have hinted that you were incompatible, and we can't have her disagreeing with you, can we? Just… stick to common ground.
So you ran all her errands, and went to those awful girl movies that nobody but you wanted to watch (and you hated), and listened to all her terrible music, and went shopping with her even though you fucking hated the mall…
And then you have the gall to get astonished when she got bored with you?
No, buddy. You weren't a nice guy: you were a boring sack of Silly Putty, pressing yourself up against her and coming away as a warped reflection of her image. You were an empty space, a computer program that said "yes yes yes" no matter how stupid the question was, as predictable as a faucet: turn you on, and bullshit spilled out.
And when that awful plan collapsed, instead of concluding, "Say, suppressing my entire personality to try to appeal to someone else is a mug's game," you instead blamed it all on them and went, "THEY ONLY LIKE BAD BOYS!"
Cue the Barney Stinson transformation.
No. I know a lot of nice guys who date, and date well. They have opinions. They have their own agendas, new activities they can bring dates to and have them go, "Oh, I've never tried this!" They have things they won't do, because sure, they'd love to help you move, but they have enough of a life outside of their date that they've promised to babysit or have a party they've committed to or something.
And they tell their partners what they want. Because they're not ashamed of having wants.
What you were, son, was a box with a mirror in it. She kept opening you up and finding her reflection, something she'd seen a hundred times before. And chances are she secretly pitied you, inviting you along on these mall-expeditions not because you were her friend, but because she sensed your crushing loneliness and was hoping you might accrete an actual goddamned personality at some point.
The lesson here is not that "Women want bad boys," but rather, "When presented with a choice between a cringing sack of suet and an asshole who can carry on his half of the conversation," she'll reluctantly choose the asshole. But there is a middle path, one I know many men have trod successfully, where they somehow manage not to treat women like shit and somehow still get laid.
Look, it hurts to be in the friend zone. No denying. I've had plenty of people I wanted to sleep with who found me unattractive, and it sucks. But when you went so far out of your way to make yourself soulless, uninteresting, and dispensable, you can't complain about being placed in the friend zone when you did everything you could to put yourself there. You didn't tell her you wanted to date right away, you didn't stand up for yourself, and you didn't tell her that if you can't sleep with her, you don't really want the friendship, you'll just take it as some limp consolation prize.
And you never respected those women the way you claim. If you did, you wouldn't be writing vitriolic essays years later on what stupid whores they were.
Sorry, buddy. You were the stupid whore. You sacrificed your self-esteem, your opinions, and your labor, masquerading as someone you weren't in a vain attempt to entice a client into your boudoir… and you couldn't even manage to do that.
Really, who's the stupid one here?
Cross-posted from Ferrett's Real Blog.
This entry has also been posted at http://theferrett.dreamwidth.org/397741.html. You can comment here, or comment there; makes no never-mind by me.


Peter Gabriel is still a great performer and artist, but he's not as young as he used to be. At least he's not pretending he's still that young rock 'n roller - his arrangements have been tweaked to compensate for the fact that he can no longer hit those high notes quite as powerfully as he used to.

Tony Levin is still amazing on bass, of course. Papa Bear ain't losing his touch any time soon.
Sometimes there's nothing like a marital date night. Ours last night involved dinner at Red Robin, and then ... PETER GABRIEL. The Back to Front concert tour film was showing - one night only - and we got to see it. (And yes, we got a little snuggly during "In Your Eyes." That's required.)




(I wish I COULD buy five copies for my mother, but alas, she passed away in 1998).

This is pretty cool. Even without the cover.
Life just keeps getting weirder and weirder.
Current Location:

dreaming

Current Mood:

amused
A reminder that I've got a bunch of things coming out this year.
In May, we've got
Star Trek: The Klingon Art of War
, packaged by becker&meyer! and published by Gallery Books. I'll be promoting this book -- which tells you all about how to live your life as a proper warrior -- all up and down the east coast, at
TrekTrax Atlanta
this weekend and at
Singularity & Co.
,
Pandemonium Books & Games
, and the
Enigma Bookstore
in May. [preorder from
Amazon
,
Barnes & Noble
,
Indie Bound
, or
from the publisher
]
Also in May, there's
Bad-Ass Faeries: It's Elemental
, from Dark Quest Books. This fourth antho featuring, well, bad-ass faeries has my Cassie Zukav story "Undine the Boardwalk" in it, as well as stories by Danny Birt, N.R. Brown, James Chambers, Judi Fleming, Bethany Herron, Lee C. Hillman, L. Jagi Lamplighter, Kimberley Long-Ewing, Jody Lynn Nye, Peter Prellwitz, James Daniel Ross, James R. Stratton, Patrick Thomas, and DL Thurston. As with the previous BAF anthos, it's edited by Danielle Ackley-McPhail, Jeffrey Lyman, Lamplighter, and Hillman. There'll be a launch party for this anthology (as well as some other Dark Quest titles) at
Balticon
over Memorial Day weekend. [
preorder from the publisher
]
In addition, if you supported
my Kickstarter for the Dragon Precinct story "Gan Brightblade vs. Mitos the Mighty,"
you should be getting that by the end of May.
In the summer, we've got "Merciless," which is an adventure in the
Firefly: Echoes of War
role-playing game from Margaret Weis Productions. It's my first RPG adventure, and I'm really looking forward to seeing how gamers respond to it.... [
get the core book in PDF from DriveThroughRPG
]
In late summer, Dark Quest will be publishing
With Great Power...
, an anthology of superhero stories, which includes a new
SCPD
story called "Stone Cold Whodunit." This anthology, which is edited by John L. French and Greg Schauer, will be debuted at the grand reopening of Schauer's Between Books store in Delaware. Other contributors include Michael A. Black & Ray Lovato, James Chambers, C.J. Henderson, Ted Hertel Jr., Sean Patrick Little, Gail Z. Martin, Bernie Mojzes, KT Pinto, Hildy Silverman, Brian Thomas, Patrick Thomas, and Raymond J. Witte, with an introduction by Jonathan Maberry.
Also in the late summer, Sequart should be releasing
New Life and New Civilizations: Exploring Star Trek Comics
, which has my essay on the period when WildStorm had the
Trek
comics license. Other essays in this collection are by Jim Beard, Joseph F. Berenato (also the editor of the book), Julian Darius, Kevin Dilmore, Robert Greenberger, Rich Handley, Mark Martinez, Tom Mason, David A. McIntee, Martín A. Pérez, Alan J. Porter, Colin Smith, Scott Tipton, Cody Walker, and Dayton Ward. The foreword is by David Gerrold, and the plan is to release the book at
Shore Leave
.
In the fall, we'll have
REDACTED
, the tie-in novel I'm feverishly writing even as we speak. Hope to have more on that by the end of May.
In October, JournalStone will publish
Out of Tune
, an anthology of stories based on sea ballads edited by the mighty Jonthan Maberry. That will also have a Cassie Zukav story, this one called "Fish Out of Water," and there'll also be stories by Kelley Armstrong, Gary Braunbeck, Gregory Frost, Christopher Golden, Simon R. Green, Nancy Holder, Del Howison, Jack Ketchum, David F. Kramer, David Liss, Seanan McGuire, Steve Niles, and Catherynne M. Valente.
And by the end of the year, the final novel in the "Precinct" series (probably),
Mermaid Precinct
will be released by Dark Quest. I say last because, well, I've run out of precincts, and I think six books (five novels, one short story collection) is a good run. But I've got more stories that I want to tell in the universe, so if nothing else there may be a seventh book called
More Tales from Dragon Precinct
, plus there are other possible avenues of storytelling. Anyhow, either way,
Mermaid Precinct
will be out this year, as Torin and Danthres must solve the murder of the Pirate Queen.
Current Mood:

pleased

Current Music:

the Yankees-Red Sox game on YES


Anyway...

I AM NOT ON FACEBOOK.

I AM NOT ON TWITTER.

I have a website, and I have this Not A Blog, right here on Live Journal, and every so often (rarely) I post on other people's blogs and websites, or on certain bulletin boards and news / discussion sites. But that's it for my internet presence.

There are accounts on Facebook and Twitter that carry my name, I know. Some just repost the things I post here. Others are more actively malignant, making up all sorts of crap and trying to make them seem like my own words. They're not.

Accept no substitutes. This is where I hang out, nowhere else.
I seem to have to repeat this every year or so. Okay, sure. There are always folks who come in late, who never got the memo.
Current Location:

Santa Fe

Current Mood:

angry
I bring you publications and stuff!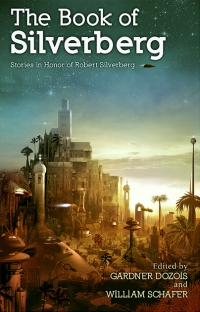 THE BOOK OF SILVERBERG! Edited by Gardner Dozois and William Schaffer. Out next week. and full of stories and essays inspired by the work of Robert Silverberg. Including one by me!

Table of Contents
Greg Bear—A Tribute
Barry Malzberg—An Appreciation
Kage Baker—In Old Pidruid
Kristine Kathryn Rusch—Voyeuristic Tendencies
Mike Resnick—Bad News from the Vatican
Caitlin R.Kiernan—The Jetsam of Disremembered Mechanics
Connie Willis—Silverberg, Satan, and Me…
Elizabeth Bear—The Hand is Quicker
Nancy Kress—Eaters
James Patrick Kelly—The Chimp of the Popes
Tobias S. Buckell—Ambassador to the Dinosaurs

Publishers Weekly liked it a lot, and gave it a review which included the following: "Standouts include Mike Resnick's "Bad News from the Vatican," which follows up on the idea of a robot pope, and Elizabeth Bear's "The Hand Is Quicker" which explores the nature of addiction and perception in a society obsessed with virtual reality."

Lois Tilton at Locus reviewed it positively and says of my story, "...cynical move worthy of the master at his most depressing." (I have just been compared to Robert Silverberg and not found wanting. This is a career highlight.)

And Library Journal says, "Standouts include Connie Willis's adorably weird 'Silverberg, Satan, and Me or Where I Got the Idea for My Silverberg Story for this Anthology' and Elizabeth Bear's bleak future of false facades 'The Hand is Quicker.' …These stories will resonate most with readers familiar with Silverberg's work, often being playful riffs on his famous stories or novels, but the tales can be enjoyed on their own merits as well." [full review not available online]

Well done us, I'd say. It's available April 30th.




Also out soon--May 13th!--is DEAD MAN'S HAND, an anthology of Weird West tales edited by John Joseph Adams.

Table of Contents:

Introduction—John Joseph Adams
The Red-Headed Dead—Joe R. Lansdale
The Old Slow Man and His Gold Gun From Space—Ben H. Winters
Hellfire on the High Frontier—David Farland
The Hell-Bound Stagecoach—Mike Resnick
Stingers and Strangers—Seanan McGuire
Bookkeeper, Narrator, Gunslinger—Charles Yu
Holy Jingle—Alan Dean Foster
The Man With No Heart—Beth Revis
Wrecking Party—Alastair Reynolds
Hell from the East—Hugh Howey
Second Hand—Rajan Khanna
Alvin and the Apple Tree—Orson Scott Card
Madam Damnable's Sewing Circle—Elizabeth Bear
Strong Medicine—Tad Williams
Red Dreams—Jonathan Maberry
Bamboozled—Kelley Armstrong
Sundown—Tobias S. Buckell
La Madre Del Oro—Jeffrey Ford
What I Assume You Shall Assume—Ken Liu
The Devil's Jack—Laura Anne Gilman
The Golden Age—Walter Jon Williams
Neversleeps—Fred Van Lente
Dead Man's Hand—Christie Yant

This includes my story "Madame Damnable's Sewing Circle," the seed that eventually grew into Karen Memory (out from Tor next year). So if you'd like a little foretaste of that--and tastes of the Weird West from all these other wonderful writers--here's a great opportunity to get in on the ground floor.

Publishers' Weekly is equally complimentary of this one, and calls my contribution "impeccably crafted." They've also got me gagging to read the Lansdale, Liu, and Williams contributions.

Squeee!

Current Mood:

excited

Current Music:

Janis Ian - Between the Lines
The festival proper runs from May 1 - 4, and the Jean Cocteau Cinema will be one of the main venues, along with the CCA's two screens on the other side of town. But to open the festivities in grand style, we're having a special One Night Only screening of a terrific new road movie on the evening of April 30.
BIG SIGNIFICANT THINGS is the tale of a young man who sets off on a quest across America, in search of adventure, meaning, and... ah... Big Stuff.
The film stars HARRY LLOYD, better known to GAME OF THRONES fan as the late great Beggar King, Viserys III, last having molten gold poured over his head by Khal Drogo.
Harry will be on hand personally come Wednesday night, to introduce his new film, meet the fans, and answer your questions... about BIG SIGNIFICANT THINGS, his new TV series MANHATTAN (now filming outside Santa Fe), DOCTOR WHO, GAME OF THRONES, or whatever. He's really a MUCH nicer guy than Viserys, so do come meet him.
BIG SIGNIFICANT THINGS will be playing ONE NIGHT ONLY at 7pm, Wednesday, April 30. We will have big drinks and big snacks and we expect a big crowd, so get your tickets early at the Cocteau website:
http://www.jeancocteaucinema.com/
Viserys Targaryen is helping to kick off the Santa Fe Film Festival this year.
Current Location:

Santa Fe

Current Mood:

amused